Tuesday - Thursday 9a.m - 5p.m
Friday 9a.m - 6p.m


Saturday 9a.m - 5p.m




Sunday - Monday CLOSED
Calling All Carnivores!
Love to grill?  Then you will adore shopping at Schomberg Quality Meats.   Famous for its California Roast, some other cuts include store made sirloin burgers, seasoned lamb chops, Korean style beef ribs, and pork butts wrapped in bacon .... ready for the smoker.
Most of all, Schomberg is famous for its california roast - boneless chicken breast tied to a boneless porkloin and seasoned to perfection.
If you are there close to lunch time, grab some of their store made chicken fingers while they're nice and hot.
If you see smoke that's Tony grilling on the Big Green Egg in front of the store, it's hard to resist!!!
More Than Just Meat
There is a deep freeze with all sorts of meat pies, shellfish and more.  You will also find delicious lasagna and farm fresh eggs.
Delicious soup mixes include Cranberry & Wild Rice, The Detox (aka Rosemary& Turmeric), Smokey Split Pea, Italian Rice & Lentil, Bavarian barley, Moroccan lentil, Thai lentil and last but not least Mexican amaranth soup.
RIB EYE STEAKS
And many more cuts of beef.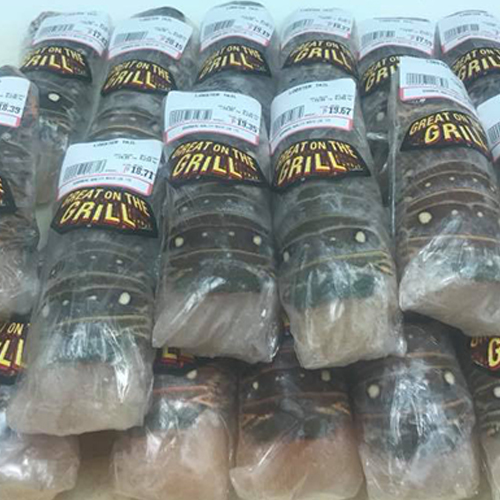 FROZEN LOBSTER TAILS
And much more in the freezer.
SPECTACULAR KABOBS
You never know what they will have whipped up.
STORE MADE SIRLOIN BURGERS
Just waiting to hit the grill.