TEMPORARY HOURS:
Open for pickup Monday 12-9,  Wednesday to Sunday 12PM - 9PM.  Place your order by calling 905.939.7151
Open for delivery Thursday & Friday 4PM - 8:30PM, Saturday & Sunday 12PM - 8:30PM
The delivery & takeout menu includes pub favourites like starters, burgers, fish & chips and more.
Watch for fun specials like the live lobster takeout kit.
Good Food. Good Friends. Good Times.
Hopefully it will not be too long until you can enjoy the most welcoming happening hangout on Main Street.  This gastropub in a heritage home is dedicated to honest to goodness delicious pub fare, beer and fun.  There is live music each and every Friday.
Pub Time Happens Every Day Except Tuesdays
It just happens in your home.  Alcohol is permitted for takeout and delivery.
There's no reason you still can't have a Happy Hour.
Awesome Patio
The beautiful patio overlooks the Schomberg River and is open whenever Mother Nature (and the government) allows - usually April - October.  You can't get more relaxed than this.
BEER MANY WAYS
Many beers served many ways.
TACO TUESDAY
Mixed up with new creations every week.
CHICKEN UNDER A BRICK
Marinated then literally cooked on a hot skillet with a brick on top.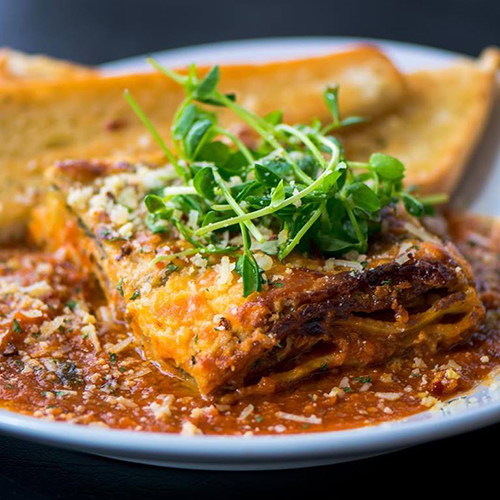 BRISKET LASAGNA
Now that takes lasagna to the next level.
FOUR CHEESE STEAK STACK
Stop drooling and get over there.