Port Soirée
174 Main Street, Schomberg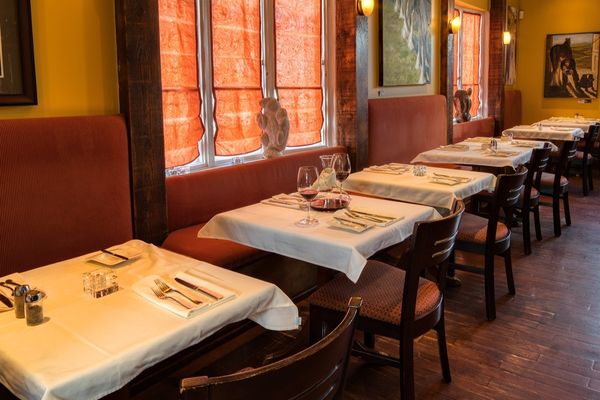 Fine Dining in a Relaxed Setting
Dine on exquisite cuisine surrounded by beautiful art in this intimate and relaxed restaurant, where Chef Andrew Prebul is always busy preparing mouth watering dishes. Chef Andrew apprenticed many years with retired Executive Chef Ralph Romberg, and is yet another reason to visit Port Soirée.
Alvaro Nascimento opened the restaurants doors in December 2006. Over 15 years later and the restaurant has remained a town favourite for fine dining in a casual setting. Compliment your dinner with a diverse selection of award winning wines from around the world or relax with one of their deep, rich ports.
Enjoy the Beautiful Outdoor Patio
Dine al fresco on the charming patio, surrounded by a beautiful garden.  Evenings you will often be entertained with acoustic guitar, making this an even more relaxed setting.
Get ready to enjoy the freshest possible salad and vegetables grown by Alvaro himself in the Port Soiree vegetable garden.
ESCARGOTS BOURGUIGNONNE
Showing a little love to French cuisine.
FILET MIGNON
The demiglace mushroom sauce takes this steak to the next level.
ORGANIC GREENS
Drizzled with a delectable apple cider vinaigrette.
RACK OF LAMB
Complemented with a pistachio dijon mustard sauce.
TIRAMISU
The classic Italian dessert.
HOURS

Tuesday to Thursday
LUNCH — 12:00 pm to 2:45 pm
DINNER — 5:00 pm to 9:30 pm
Friday
LUNCH —12:00 pm to 2:45 pm
DINNER — 5:00 pm to 10:00 pm
Saturday (Dinner Only)
DINNER — 5:00 pm to 10:00 pm
CLOSED SUNDAY & MONDAY
(Open Sunday for Special Events)