Raise a Glass to Great Taste
Opening in 2018, this trendy Wine Bar is the latest addition to excellent dining on Main Street, and is a great place to come for any occasion.  Enjoy tapas, brunch lunch or dinner from their ever changing but always delicious menu.
Enjoy the Beautiful Outdoor Patio
In the summer, the floor to ceiling windows at the front of the restaurant open right up to a beautiful patio.  Whether you are dining inside or on the patio, you will feel like to are sitting outdoors.
Enjoy an Incredible Selection of Wine, Beer, Ciders and Cocktails
Lot 15 boasts a fine selection of wine, including many consignment wines that are not available through the LCBO.  They aren't shy about inviting people to come to spend the afternoon - even to make it their Friday afternoon office - working with wine - that works!
Their mixed cocktails aren't too shabby either.
AVOCADO TOAST
Enjoy with or without eggs.
BUFFALO CAULIFLOWER TACOS
A great vegetarian option with just a touch of heat.
HAIL CAESAR!
Comes topped with a charcuterie skewer and a dash of extreme bean sauce.
BUTTERNUT SQUASH
Topped with creamy burrata and home-made carmelized onions.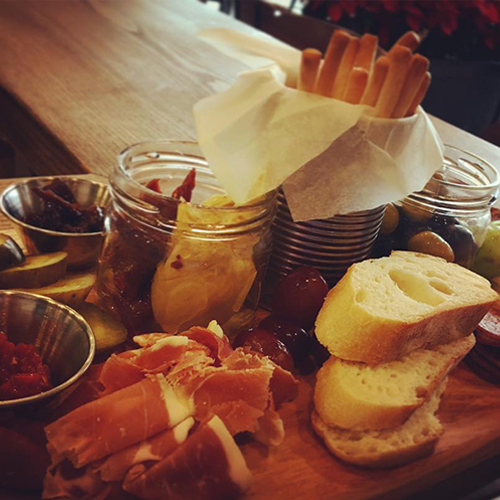 CHARCUTERIE BOARD
Fine meats, cheeses, artichokes, olives, breadsticks, house made red pepper jam and more!