Leonardos Pizzeria & Smokehouse
289 Main Street, Schomberg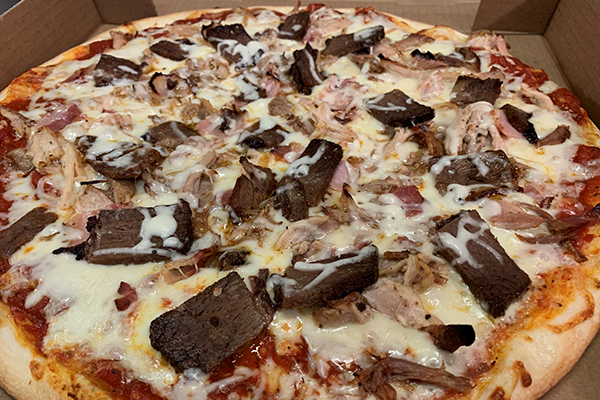 This Place is SMOKING!
Leonardo's 40 year Gourmet Pizza Legacy is under new ownership and have a delightful extended menu and longer hours.
Enjoy their classic, specialty and primo pizzas and panzerotti, with eclectic varieties available, including The Barnyard - a pizza featuring 4 types of smoked meats.
Weekly Specials
You will also enjoy their wide variety of smoked meat sandwiches, chicken wings, salads and appetizers - truly something for everyone! Weekly specials include wings, blooming onions, hickory smoked pork back ribs, smoked meat bracket sandwich, and Montreal smoked meat pizza.
THE MEDITERRANEAN
Showing a little love to French cuisine.
SMOKED BEEF BRISKET
You're gonna want to get your hands on this!
BBQ CHICKPEA
Not your traditional pizza.
HEART SHAPED PIZZA
Perfect for Valentines & Mother's Day!
HOURS
Wednesday - Thursday 12:00pm - 9:00pm
Friday - Saturday 12:00pm - 9:30pm
Sunday: 12:00pm - 9:00pm
Monday - Tuesday CLOSED