COME TO MAIN STREET AND CREATE YOUR OWN ABBEY ROAD COVER.
Crosswalk Art Has Come to Main Street.
At the corner of Church and Main Street, under the eye of the Schomberg Market Day mural, Schomberg's agricultural heritage was celebrated with 2 crosswalks featuring local crops that would have been sold on Market Day. The first crosswalk features the fall harvest of pumpkins and carrots, the second features spring crops of strawberries and salad.
These crops were carefully chosen to represent both the Holland Marsh and the highlands of Schomberg's agricultural area.
Pictured overlooking the installation is Lisa Grealish, the winning artist who designed the crosswalks.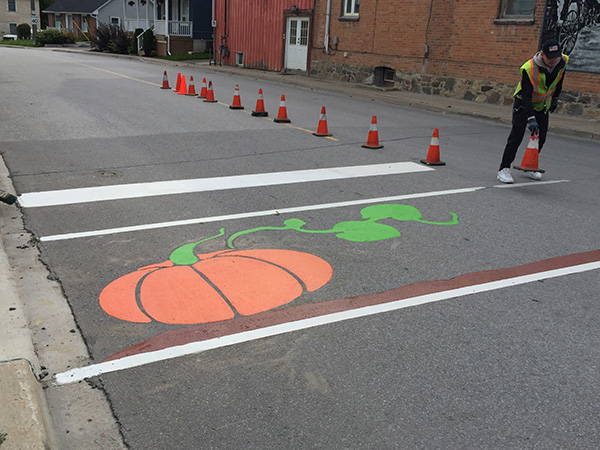 The Third Crosswalk Features Turtles
Located adjacent to the Dufferin Marsh and a prominent turtle crossing, the third crosswalk features bullrushes, lily pads and turtles.
It is the intent that in addition to adding visual art to the intersection, this crosswalks will serve as a reminder to drivers to keep an eye out for turtles, especially in the Spring.
You will find the garden crosswalks at the corner of Church Street and Main Street.  The turtle crosswalk is located at the corner of Main Street and Dr. Kay Drive.