TWO POP-UP PATIOS HAVE POPPED UP ON MAIN STREET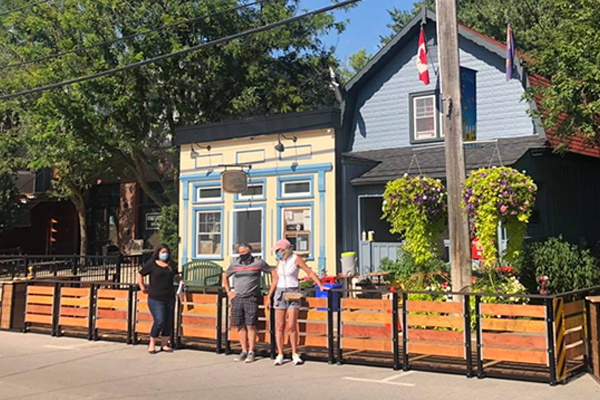 Taking it to the Street on Main
Pop-Up Patios have been installed on Schomberg's historic Main Street in front of  The Grackle Coffee Company and Leonardo's Pizzeria and Smokehouse.
The patios expand outdoor dining space and support physical distancing within Schomberg's historic commercial core and have been provided and installed by King Township, with partnership funding from Central Counties Tourism.
"We are delighted to be creating such an innovative use of public space," said King Township Mayor Steve Pellegrini. "In these COVID times these patios will provide additional outdoor dining capacity for the community, as well as stimulating the economic recovery of our local businesses and adding to the charm of Main Street."
Pop-Up Patios to Remain Until October 31
Each patio measures 18 feet by 7 feet and will occupy approximately 1 on-street parking space while providing about 130 square feet of patio space each. The patio at Grackle is adjoined and offer 260 square feet of space.
For those needing to park for a period less than 3 hours on Main Street, ample street parking will remain.  Those needing to park for more than 3 hours can make use of the Green P lot beside the Post Office or park in the Parks Depot (Old Arena) lot on Western Avenue.
more info on Main Street parking